Dr. Tomohiro Abe won the 15th Seitaro Nakamura Award
2020.10.09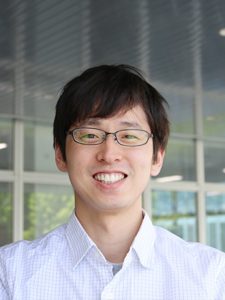 Dr. Tomohiro Abe from the Division of Theoretical Studies won the 15th Seitaro Nakamura Award of the year from the Particle Research Scholarship Foundation.
The award named after Dr. Seitaro Nakamura (1913-2007), who had produced substantial researches on theoretical particle physics particularly on two-meson and beta decay, was established in 2006 in order to encourage young researchers for their future endeavors in particle physics and the related field.
"The effect of the early kinetic decoupling in a fermionic dark matter model"
(Phys.Rev.D 102 (2020) 3, 035018)
It's a great honor. I will keep doing my best. I would also like to

take this opportunity to thank IAR and KMI for their support.