Dr. Atsushi Nishizawa won the 13th Seitaro Nakamura Award
2018.09.03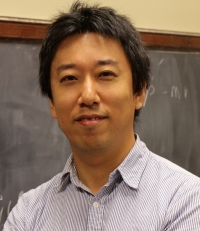 Dr. Atsushi Nishizawa from the Division of Theoretical Studies won the 13th Seitaro Nakamura Award of the year from the Particle Research Scholarship Foundation.
The award named after Dr. Seitaro Nakamura (1913-2007), who had produced substantial researches on theoretical particle physics particlularly on two-meson and beta decay, was established in 2006 in order to encourage yound researchers for their future endeavors in particle physics and the related field.
The research paper of the award: "Generalized framework for testing gravity with gravitational-wave propagation. I. Formulation"
(Phys. Rev. D 97, 104037 (2018))
The awarding ceremony is scheduled on March 14-17th, 2019, at the 74th annual meetings of the Physical Society of Japan (JPS).