Information
---
Conference will be held at Sakata-Hirata Hall on the ground floor of Science South Building at Nagoya University, Higashiyama campus. The building is located at D2 block of the Campus map [PDF].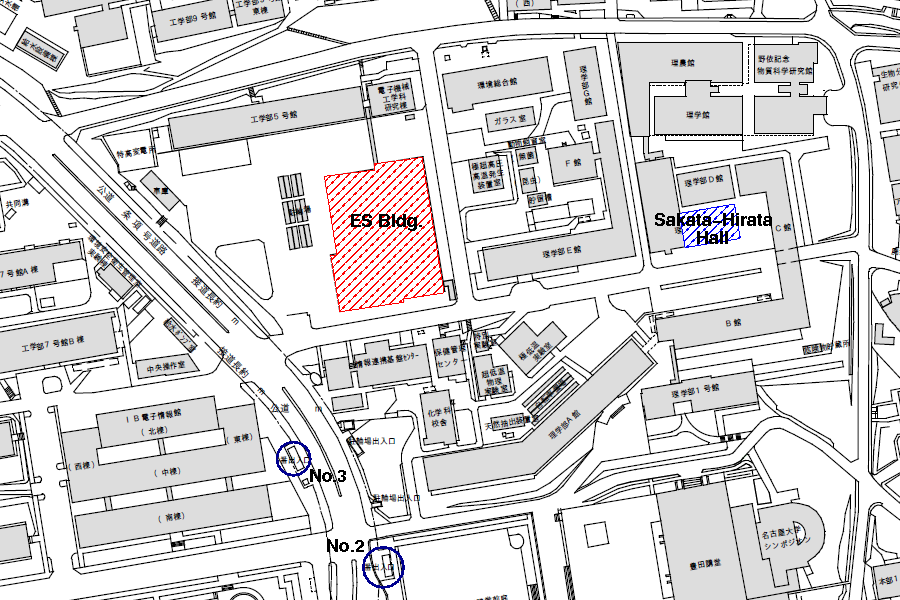 Those who are applying for the participation in the Conference are asked to fill out the Registration Form on the Web page of the Conference:
http://www.kmi.nagoya-u.ac.jp/workshop/sakata100/registration.html
by October 15.
The registration fee 15,000 yen should be paid at the reception desk of the Conference. (Please pay in cash; no checks nor credit cards are acceptable.)
We have made bulk reservation at hotels in downtown Nagoya:
which are very close to each other. See for details Hotel Reservation Form:
KMIIN_SAKATA100_HOTEL_RESERVATION.doc
KMIIN_SAKATA100_HOTEL_RESERVATION.pdf
For reservation send the Form directly to (do not sent it to us):
KMIIN /SAKATA2011 desk: Kinki NipponTourist Co., Ltd.
Corporate Travel, Event & ConventionBranch, Nagoya,
C/o Nihonseimei sasashima Bldg, 7F, 1-27-2,Meiekiminami, Nakamura-ku, Nagoya 450-0003, Japan
Tel: +81-52-583-8311
Fax: +81-52-563-1846
Email:
To Nagoya University, Higashiyama Campus:
http://www.nagoya-u.ac.jp/en/global-info/access-map/access/

To Nagoya Tokyu Hotel or Chisan Hotel from Nagoya Station/Airport:
Click here. If you want to take a taxi, print this page and show it to your taxi driver in case the driver does not speak English. The other hotel (Chisan Inn Nagoya) is quite nearby.

From hotels to the workshop site, a shuttle bus is available at AM 8:10 every morning (from 27th-28th Oct.), or take the subway.

Lunch guide
Chez Jiroud on the ground floor of ES building. Lunch tickets are available at the reception desk. (the number is limited due to the capacity.)
Hananoki and Cafeteria in the campus.
Climate
Temperature in Nagoya in late October: low 10-12°C, and high 20-22°C approx.
Networking
Campus area Wireless LAN will be available at the conference site. Those who wish to use wireless network connection, please check "Use Wireless LAN" in the registration form.