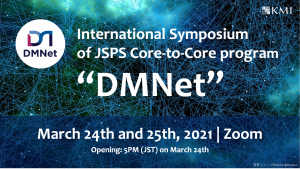 The JSPS Core-to-Core program "International Research Network to Reveal Dark Matter in the Universe by Multidisciplinary Approach in Particle and Astrophysics" (DMNet) has started this Japanese financial year. We will have an international symposium on line (ZOOM) on March 24th and 25th, 2021 (from 17:00 to 21:00 (JPT)) in order to report our activities.
ZOOM registration page:
https://us02web.zoom.us/meeting/register/tZ0rcuCtrzsqE9PkkdP1tyhrZUK_KPXp1jQG
Not only everyone in DMNet but also other people can participate into this symposium.
Please also join Slack channel for offline discussion during the meeting as below.
https://join.slack.com/t/dmnet-2021/shared_invite/zt-nxe7c03b-ITIRgTInTKvwCU4vvgF4GA
We hope you will join in.
DMNet coordinator
Junji Hisano (KMI, Nagoya Univ.)
今年度よりの日本学術振興会拠点形成事業(Core-to-Core program) "領域横断的アプローチで実現する宇宙暗黒物質解明のための国際研究拠点構築" (DMNet)が始まりました。2021年3月24、25日(17:00-21:00(日本時間))、その活動を報告する国際シンポジウムをZOOMによるオンラインで行います。
ZOOM参加登録:
https://us02web.zoom.us/meeting/register/tZ0rcuCtrzsqE9PkkdP1tyhrZUK_KPXp1jQG
DMNetに参加しているみなさんはもちろんそれ以外の方も参加可能です。
またシンポジウム開催中、オフラインでの議論のためにSlack channelを立ち上げましたのでご利用ください。
https://join.slack.com/t/dmnet-2021/shared_invite/zt-nxe7c03b-ITIRgTInTKvwCU4vvgF4GA
皆様の参加をお待ちしております。
コーディネーター
名古屋大学KMI 久野純治
◊◊◊◊◊◊◊◊◊◊◊◊◊◊◊◊◊◊◊◊◊◊◊◊◊◊◊◊◊◊◊◊◊◊◊◊◊◊◊◊◊◊◊◊◊◊◊◊◊◊◊◊◊◊◊◊◊◊◊◊
Presentation files of talks